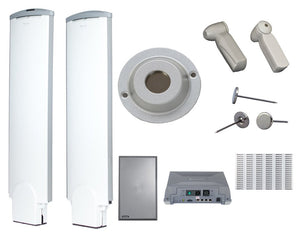 Beauty Supply Security Tag System Package with Installation
Complete 6 foot door retail security tag system package comes with 2,000 AM Ultrastrip III Barcode labels, 1 Deactivator, 500 Gray Stylus Tags, 500 25mm Pins, 1 Detacher, Dual Primary and Secondary Ultrapost pedestals, and installation.
The Dual Ultrapost is an attractive and reliable security tag detection system. It can protect a 6 foot doorway with two pedestals. Includes two refurbished Ultrapost Pedestals. 
Comes in quantity of 2 refurbished pedestals, 2,000 new labels, 1 deactivator, 500 gray stylus tags, 500 25mm pins, 1 detacher, and installation
SQP2010A - 6 Foot Door Retail Security Tag Package - RFRB